Harnessing the power of the body's own cells to give people hope.
When vascular-related conditions don't respond to treatment, or conventional therapies aren't an option, they can be devastating. They compromise people's quality of life, drain them of hope for the future and may cause death while costing the healthcare system billions of dollars.
At VESSL, we're on a mission to change all that…and change lives, too.
We're using cell- and gene-based proprietary technologies along with the body's own healing mechanisms to develop solutions for vascular-related conditions that are effective and faster to recover from. Our breakthrough solutions are aimed for people suffering from advanced peripheral arterial disease, problems with their dialysis access sites and many other conditions.
We're not just giving them new options. We're giving them new hope.
And as fascinating as our work is, that's what we look forward to every day.

Technology
Technology has changed a lot in fifteen years.
What motivates us has not.
VESSL's core technology is enabling us to develop entirely new, life-changing treatments for a wide range of blood-vessel-related disorders.
We combine a patient's own endothelial cells with specific genes and other synergistic cell types to create groundbreaking therapies for patients with peripheral arterial disease, coronary artery disease, end-stage renal disease, liver cirrhosis and diabetic retinopathy – patients for whom conventional treatments have failed or are unsuitable.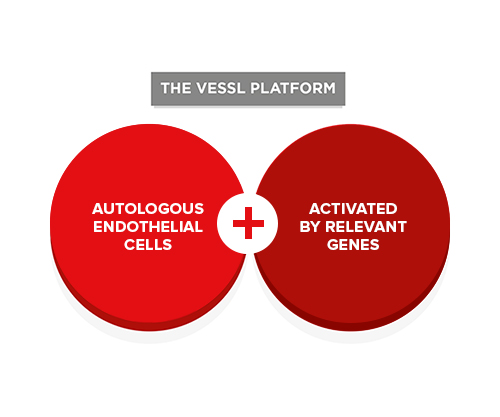 Our therapies are derived from the patient's own cells isolated from a short vein segment taken from their arm under local anesthesia. These cells are activated by the insertion of specific genes and are then re-introduced to the patient.
Our pioneering approach enables the secretion of multiple factors by the activated autologous cells, closely mimicking the natural process of blood vessel formation and growth.
VESSL's leading solutions are expected to improve blood flow through the proliferation of collateral blood vessels or by a modified synthetic graft with greater biocompatibility.
We've been immersed in developing these treatments for fifteen years. It's amazing how technology has changed in that time. And it's equally amazing what it enables us to do today.

Solutions
New therapies that are giving patients
a whole new outlook on life.
MGA for PAD
Peripheral artery disease (PAD) is a systemic atherosclerotic disease. It afflicts 8 million Americans and an estimated total of 25 million patients in the developed world. It is associated with diabetes, obesity, hypertension, smoking and high cholesterol levels.
PAD is characterized by the narrowing or occlusion of arteries in the leg, resulting in inadequate blood flow to the leg muscles. This may cause pain when a patient engages in physical activity, but that pain will usually respond to rest. The situation could deteriorate, however, and progress to critical limb ischemia (CLI) with its attendant rest pain, ulcers that won't heal or gangrene that may lead to limb amputation.
CLI, the most severe form of PAD, develops in about 4% of PAD patients. Currently, there are about 1 million patients in the developed world, with 200,000-300,000 of them either being unsuitable for or unresponsive to conventional therapies such as bypass surgery or balloons and stents. Their quality of life has been described as similar to that of a patient with terminal-stage cancer, and many will eventually have to undergo amputation or will die.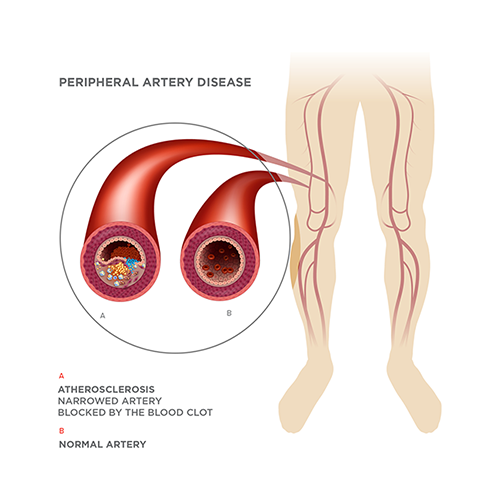 One of our primary solutions, MultiGeneAngio (MGA), is designed to offer hope to people with no other options.
Using blood vessel cells isolated from a patient's own body and into which we insert specific genes, MGA harnesses the body's own mechanisms to grow natural bypasses. By enhancing the formation of collateral arteries, MGA significantly increases blood flow to the oxygen-starved muscles.
MGA is expected to dramatically improve a patient's quality of life, improve healing of ulcers, reduce amputations, minimize hospital stays and procedures and decrease the enormous costs associated with CLI.
To date, we have completed pre-clinical experiments and two phase I/IIa human trials of MGA in PAD patients at the University of Michigan, the University of Pennsylvania and 7 medical centers in Israel. Thirty-five patients have been treated, with no safety issues and promising early indications of efficacy.
MGG for ESRD
About 50% of all end-stage renal disease (ESRD) patients are maintained by hemodialysis, undergoing mechanical blood cleaning several times a week for the rest of their life (or until a kidney transplant becomes available). More than 400,000 patients rely on this therapy in the US and a total of 1.25 million patients rely on it in the developed world. The economic burden of managing vascular access dysfunction is enormous and includes recurring surgical procedures required for keeping the access site open. The number of ESRD patients is projected to keep growing due to the availability of fewer donor kidneys and the increasing prevalence of diabetes and hypertension.
Creating and maintaining a suitable arterio-venous access site is one of the most challenging and expensive aspects of hemodialysis treatment and frequently leads to hospitalization. Approximately 25% of all hospital stays for ESRD patients are related to problems with vascular access.
The preferred form of access is called an arterio-venous fistula. To create one, a surgeon connects a vein to an artery (typically in the arm), resulting in a high-flow circuit suitable for dialysis.
In 20% of these cases, poor vasculature requires the use of a synthetic graft in order to create an access site. The problem with synthetic grafts is that they have a lifespan of only two years before a replacement or correction is needed, and about half of them fail within 6 months.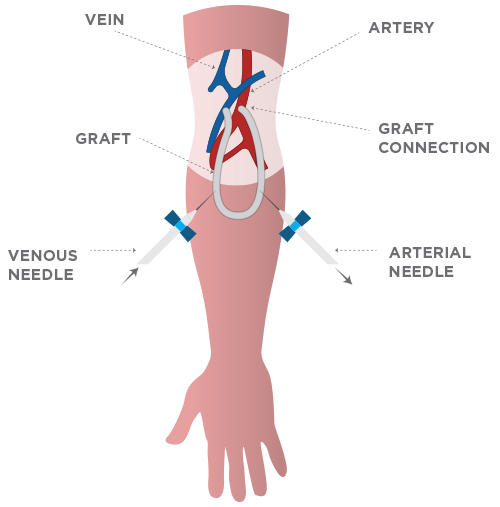 VESSL's MultiGeneGraft (MGG) is a biosynthetic vascular graft lined with a patient's own endothelial cells which are modified by specific genes. Lining the graft with these cells provides a clot-resistant vessel that's expected to outlast and outperform synthetic products currently in use.
By improving compatibility and reducing complications, MGG will reduce interventions, hospitalization time and the number of required surgeries. Pre-clinical trials demonstrated successful adhesion of the endothelial cells to the graft material and a reduction in short- and long-term failure rates.
The FDA has granted IND for MGG, and a phase-I study in 10 hemodialysis patients is planned.
Pipeline
We have a bright future ahead of us. More importantly, so do patients.
Additional solutions using our technological platform are currently in different pre-clinical stages. These include:
MultiGeneAngio (MGA) for treatment of coronary artery diseases (CAD)
MultiGeneLiver (MGL) for liver regeneration in patients with liver cirrhosis
MultiGeneEye (MGE) for treatment of diabetic retinopathy

Team
We're driven by the science of caring.
The VESSL Management Team
Reuven Ben-Menachem
Chairman of the Board
Mr. Reuven Ben-Menachem co-founded Fundtech Ltd. in 1993 and currently serves as its Advisor. He has served as Fundtech Ltd.'s Chief Executive Officer and President and he has been on its Board of Directors since its inception in 1993; he has served as its chairman since 1998.
Mr. Ben-Menachem led Fundtech to a successful IPO in 1998 and raised $100 million in a secondary offering in 1999. He sold Fundtech to GTCR (a Chicago-based private equity firm) in 2011, and in 2015 Fundtech was sold to a strategic buyer for $1.25 billion.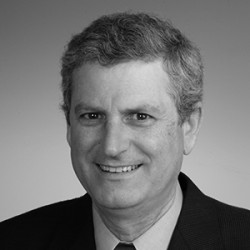 Prof. Moshe Flugelman, MD
Founder and Chief Executive Officer
Prof. Moshe Flugelman specializes in interventional cardiology and vascular biology. He is the Director of the Department of Cardiovascular Medicine at the Lady Davis Carmel Medical Center, Haifa, Israel.
He was a visiting Scientist at the National Heart, Lung & Blood Institute of the National Institutes of Health (NIH) in Bethesda, Maryland and was a fellow in experimental angioplasty at Washington Hospital Center, Washington, DC. While at the NIH, Prof. Flugelman worked with leading experts in vascular gene therapy. He has broad experience in the fields of experimental cardiology and vascular biology.
Prof. Flugelman earned his Medical degree at the Technion – Israel Institute of Technology and completed his cardiology training at the Hadassah Hebrew University Medical Center in Jerusalem.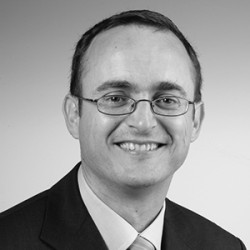 Ranny Yaffe
Chief Operating and Financial Officer
Mr. Ranny Yaffe is responsible for all financial and fiscal management of VESSL. He provides leadership and coordination in the logistical, business planning, accounting and budgeting efforts of the company, and he is responsible for optimizing its day-to-day operations.
Mr. Yaffe joined VESSL in 2004 after serving as Business Development and Financial Manager for several life science companies. He holds a B.Sc. in Industrial Engineering and Management and an MBA with distinction, both earned at the Technion – Israel Institute of Technology.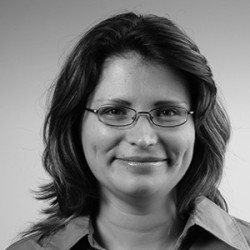 Adili Tsaba
VP Regulatory and Clinical Affairs
Mrs. Adili Tsaba, a Biotechnology Engineer, graduated from the Technion – Israel Institute of Technology in 1996. Her master's degree in Molecular Biology (also from the Technion) involved research at UC Davis in California.
Mrs. Tsaba joined VESSL in 2001 and has actively participated in the research and development of the company's leading solutions. Since 2004, she has been responsible for all regulation, GCP and clinical trial management at VESSL.
Mrs. Tsaba specializes in product regulation and was responsible for the submission of the INDs for VESSL's leading solutions.
Benny Zeevi, MD
Vice-Chairman of the Board
Managing General Partner, Tel Aviv Venture Partners
Dr. Benny Zeevi is a Managing General Partner at Tel Aviv Venture Partners and leads the fund's life science and Cleantech investments. Prior to joining DFJ TFV in 2003, Dr. Zeevi had been the Vice President for Business Development and Medical Director of Card Guard AG since 1998.
From 2012 to 2015 Dr. Zeevi was the Co-chairman of the IATI and has been the Co-chairman of the Biomed Conference for the last 4 years. He is deeply involved in the Israeli life sciences industry.
Dr. Zeevi is the Founder and Co-director of an executive program for biotechnology and medical device entrepreneurs and managers based on international faculty at the Faculty of Management of Tel-Aviv University and also serves on the faculty's advisory board. He is the Chairman of the boards of Kytera and Oggii and serves on the boards of Kaiima and Sensifree. He is also a mentor at Microsoft Ventures Accelerator.
Dr. Zeevi holds an M.D. degree (magna cum laude) from the Sackler School of Medicine, Tel Aviv University, where he specialized in interventional pediatric cardiology.
Eldad Tamir
Founder and CEO, Tamir Fishman Group
Founder and CEO, Tamir Fishman Group
Mr. Eldad Tamir is the Founder of and has been the CEO of the Tamir Fishman Group since its establishment in 1996.
Mr. Tamir is considered one of the pillars of the Israeli investing world, with over 20 years of experience in investment banking, investment management, venture capital and private equity. He has managed dozens of public offerings and M&A transactions on stock markets in the USA, Europe and Israel and is one the founders of the venture capital funds Eucalyptus, Tamir Fishman Venture Capital II, DFJ Tamir Fishman Ventures, TF Russia Fund and TF Opportunity funds (hedge funds). Mr. Tamir also serves as a Managing Partner in the group's venture capital funds. He is the active Chairman of Tamir Fishman Asset Management, which handles the management of portfolios, mutual and provident funds and employee benefit programs.
Mr. Tamir holds a degree in economics and an MBA from Tel Aviv University.
Yoav Sebba
Vice President, XT Investments
Mr. Yoav Sebba serves as Vice President of XT Investments. Prior to joining XT, Mr. Sebba served as a Partner at Yozma Venture Capital (part of the XT Investments portfolio), one of Israel's leading venture capital firms. Prior to joining Yozma, Mr. Sebba served as a Project Manager at Bank Leumi, one of Israel's leading commercial banks. He serves as a Board Member for ZIM Integrated Shipping Services, NextNine, NanoPass, CorAssist, IntraTech, Angioslide and EndoCross. He also served as a Board Member in Cognitens (acquired by Hexagon), Kailight (acquired by Optium), Impactia (acquired by eWave), Applied Spectral Imaging, Tevet (acquired by NanoMetris) and Yadata (acquired by Microsoft).
Mr. Sebba holds a B.Sc. in Industrial Engineering and Management from the Technion – Israel Institute of Technology and an MBA from the Haifa University.
Yoav Z. Chelouche
Managing Partner, Aviv Ventures
Mr. Yoav Chelouche has over 30 years of experience in management, initiation and investments in the global high-tech arena. He has been a Managing Partner of Aviv Ventures, an Israel-based venture capital fund, since its inception in 2001.
Prior to Aviv Ventures, Mr. Chelouche served as president and CEO of Scitex Corp. (NASDAQ: SCIX), a world leader in digital imaging and printing systems, with revenues of $750 million and 5,000 employees.
Mr. Chelouche served as the Co-chairman of Israel Advanced Technology Industries (IATI), which represents the entire technology ecosystem in Israel.
He currently serves on the boards of Checkpoint Technologies (NASDAQ: CHKP) and the Tel-Aviv Stock Exchange.
Mr. Chelouche holds an MBA from INSEAD, Fontainebleau, and a BA in economics from Tel Aviv University. He was nominated by INSEAD as one of "50 Alumni Who Changed the World."
Our Scientific Advisory Board
Prof. Aaron J. Ciechanover, MD, DSc
2004 Nobel Prize laureate in Chemistry and distinguished Research Professor, Technion – Israel Institute of Technology.
Prof. Renu Virmani, MD
President and Medical Director, CVPath, International Registry of Pathology (Gaithersburg, MD, USA).
Clinical Professor, Department of Pathology, at five leading US universities.
Aharon Schwartz, PhD
Former Vice President of Strategic Business Planning and New Ventures at Teva Pharmaceutical Industries Ltd.
Prof. Paul Feigin, PhD
Professor of Statistics and Senior Executive Vice President of the Technion – Israel Institute of Technology.
Prof. Yosef Shaul, PhD
Department of Molecular Genetics and Virology, Weizmann Institute of Science (Rehovot, Israel).

VESSL Therapeutics Ltd.
Carmel Medical Center
7 Michal Street
Haifa 3436212
Israel
Tel: +972-4-8261671
Fax: +972-4-8250832